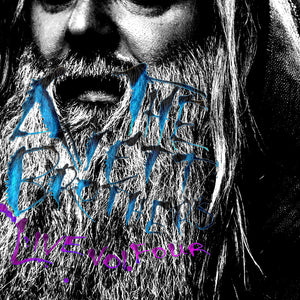 Please note, this item has slight jacket damage that does not affect playback. All Sales Final.
Live, Vol. Four was recorded during last year's New Year's Eve concert at the PNC Arena in Raleigh, NC. Of Live, Vol. Four, Seth Avett says "The energy of this show is undeniably positive and uniquely North Carolinian. I often had to remind myself that we were singing to the audience and not the other way around...there's nothing like celebrating in an arena filled with friends and neighbors. Live, Vol. Four includes two brand new songs by The Avett Brothers - "Satan Pulls The Strings" and "Rejects in the Attic."
Please note, this pressing does not have a DVD or download card included.
Track Listing:
Side A:
1. Satan Pulls the Strings
2. Laundry Room
3. Another is Waiting
Side B:
4. Shame
5. Kick Drum Heart
6. Rejects in the Attic
Side C:
7. Ten Thousand Words
8. Talk On Indolence
9. Auld Lang Syne
Side D:
10. The Boys are Back in Town
11. I and Love and You
12. Slight Figure of Speech
13. Happy Trails